The Must-Have Golf Gear to Bring Your Game Up to Par
The sport of golf is most commonly played in the summer, but hitting the links in the fall is particularly special. The spectacle of the vivid fall foliage makes the game a real treat on courses where the trees are tall and the fairway views are long.
But before you get out on the course, you have to have the right gear. Unfortunately, avid golfers know it's easy to spend hundreds of dollars on equipment to keep up their game. Golf gear from clubs to shoes to accessories keeps improving by leaps and bounds year after year. That's why we embarked on a thorough search of our own to find all of the latest gadgets and clubs worthy of your attention.
Plus, when you purchase your golf equipment through Splender.com, you'll save even more money with our cash back rewards, awesome deals and coupon codes. So go ahead, treat yourself to that new set of clubs!
Golf Clubs
The New Callaway Golf XR Irons from Walmart.com (2% cash back) come in a variety of composition, flex and dexterity to fit any golfer. You'll want to add these irons to your bag if you're looking for distance and control. The Cup 360 face cup technology acts like a spring on shots hit low on the face to increase ball speeds and forgiveness. And the 2-piece dual heat-treated design gives them a heightened level of refinement.
Golf Balls  
These Bridgestone Prior Generation Tour B330-RXS Golf Balls from Golfsmith (2% cash back) are among our favorites. RXS balls have a coating that adds friction, so iron shots spin more and tee shots spin less. The revolutionary Hydro Core technology reduces spin and delivers a longer distance and accuracy off the tee. The soft feel gives you more control, plus good stopping power on the greens, making these one of our top picks for the best golf balls of 2016.
The Ultimate Golf Shoe
Men can walk the course like a pro in these AdiPure Tour Preferred TC golf shoes from Dick's Sporting Goods (6% cash back). Adidas dresses many of the top PGA Tour players, and this shoe is the choice of some of the world's best golfers. This pair combines comfort and performance, with waterproof, moisture-wicking, spikeless adiwear outsoles, and a wide range of other innovations designed to actually improve your stability and power transfer.
For the women golfers, FootJoy Women's Closeout LoPro golf shoes from GolfShoesOnly.com (3% cash back) offer a great fit and Softspikes that allow you to be stable on all your shots. Plus, they're lightweight and super comfortable, so you can finally stop playing in sneakers.
A Superior Bag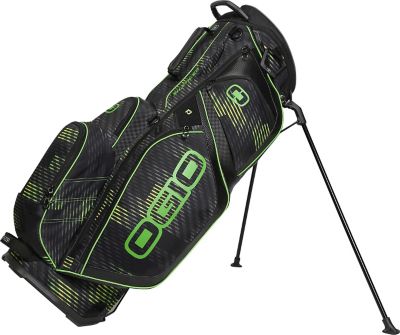 A long-time annoyance of the sport has been the clanging noise of clubs banging against each other. Especially when players are walking and carrying their clubs from one hole to the next in often serene, park-like settings, this noise can be particularly distracting. And the banging isn't just hard on the ears, it's also bad for expensive golf clubs.
Now, you can protect your clubs and enjoy peace and quiet with the new Ogio Silencer Stand Bag from Golfsmith (2% cash back). Leading bag-maker Ogio has managed to find a solution to this problem with its innovative Silencer bags. The bags use a top and bottom insert to secure the end of the grip and the hosel to keep the clubs from moving, but they're just as easy to pull out for play. Unlike a fully divided bag, which is often heavy and takes up a lot of interior space, this bag is efficient and lightweight for easy walking.
Mini-Swing Analyzer
Tech lovers will appreciate this must-have golf accessory. This high-tech Epson M-Tracer Golf Swing Analyzer from Dick's Sporting Goods (cash back 6%) may be tiny, but it can help make a big impact on your golf game. The sleek, club-mounted device is designed to capture accurate details of your swing and provide insights to help you correct and refine your motion. Core Sensing Technology captures club head speed, attack angle and swing path metrics, all of which are instantly viewable on a mobile app.
Autumn is the perfect time to combine two loves: golf and fall leaf-peeping! Many courses are at their prettiest in the fall, when the brilliant colors of fall foliage complement the lush greens and fairways. It's also the perfect time to sort through your golf equipment and consider what you need to update your gear. The items above will have you outshining the competition!
And when you shop through Splender.com, you'll find great deals and even receive cash back on all of your golf gear.
Not a member? Sign up today!