The Ultimate Holiday Gift Guide for Everyone on Your List
The holidays have a way of sneaking up on us.  Before you know it, your best laid plans for finishing your shopping early are out the window. The good news is that you still have time (it's not even Turkey Day, yet!). Sure, stores tend to have special sales and longer hours from Black Friday through Christmas Eve as people rush to find last-minute gifts. But, remember, the internet is always open! Now, all you need to do is find the perfect gift for everyone on your list. Easy, right? We kid. To help, we've compiled a list of the best gift ideas for the whole family.  And, don't forget to beat the rush and the long lines this year by shopping through Splender. When you shop for these holiday gifts via Splender, you get cash back on all your purchases!
Tech Gadgets
For the techie, the Samsung Gear VR is this year's hottest tech gadget and the latest in wearable technology. It includes a touch pad for easy control and fits much more comfortably than previous versions. With Gear VR, users can immerse themselves in entertainment like never before. The virtual reality headset allows users to travel across the galaxy, build expansive cities, battle incredible monsters and much more. The Gear VR is available at Samsung for 4% cash back.
Beauty Gift Sets  
While it couldn't be easier to head into Sephora and snag several goodies for yourself, nailing the exact lipstick or blush for someone else's preferences can be a holiday headache. The solution? Give them choices! Sephora offers so many great sets, but one of our favorites has to be this Drunk Elephant Let's B Clear gift set. The new line is already making waves for their combination of sustainability and effective ingredients. This skincare set is a great way to try out the brand. With all their best sellers in one set, day and night are covered for a skin-happy future for any beauty junkie on your list. This gift set is available from Sephora with 8% cash back. 
Men's Shoes
These Hugo Boss Square Lace Up Oxfords from Bloomingdales (4% cash back) are just the thing to splurge on for any man in your whether you are shopping for your husband, son, father, or boyfriend. As we all know, this is the season for parties and any man will appreciate some new sleek and stylish shoes to wear to the upcoming New Year's Eve celebrations.
Women's Accessories
Many women will agree that the perfect accessory can add that extra panache to an ensemble. Handbags and accessories can be the perfect complement to a woman who exudes confidence. While she's at the office or running around town on the weekend, this Thea Medium Slouchy Leather Satchel Bag from Neiman Marcus (10% cash back) will look chic wherever she travels. And if you can't decide, there's always a gift card! Find gift cards from your favorite retailers including Neiman Marcus, to ensure your loved ones will get a gift they treasure (and don't want to return!).
Fun & Challenging Toys
Every child loves toys, and educational toys can be loads of fun while fostering creativity and strategic thinking. They are the perfect gift to allow children to learn and explore their world through play. The Amusement Park Roller Coaster from LEGO (2% cash back) makes learning especially exciting and provides hours of fun. This toy is particularly targeted to young girls, teaching patience and precision. It's full of detailed functions and accessories for children to build their own working amusement park. There's no doubt this set will capture the attention and fascination of all young girls who are bound for success.
Framed Jerseys
Sports fans of all ages relish the opportunity to own memorabilia signed by their favorite players. It's even more special when a fan's favorite team wins a championship. Ted Leonsis, the owner of the Washington Wizards NBA and Washington Capitals NHL teams recently talked about the power of sports and their emotional effects on grown men. As a child, Leonsis watched the New York Jets defeat the Baltimore Colts in Super Bowl III in 1969, a moment that made him cry after watching a re-run of it decades later.
Speaking of Super Bowl III, here's an authentic 1968-69 Jets jersey signed by 24 members of the original team from Steiner Sports Memorabilia. It is regularly priced at $1,799, but it is currently $899.99 – half off! Splender members also receive 8% cash back and other perks like free shipping on orders over $200, and additional coupon codes.
NFL Jerseys
Football season is still going strong and there's no better way for someone to show his or her fandom than with an official jersey. All NFL jerseys at Kohl's are $100, including this Russell Wilson jersey. Kohl's doesn't just have jerseys for Wilson's Seattle Seahawks, but all 32 teams in the league. Better yet, Splender members get 4% cash back and save 15% off with the coupon code CATCH15OFF at checkout.
Practical Mobile Device Accessories

Accessories aren't as expensive as mobile devices themselves such as a smartphone or tablet. Though some buy the cheapest options whenever and wherever possible, they aren't always reliable. So here are some high-quality mobile device accessories you can find for that special someone who is constantly changing headphones or portable chargers because they're always breaking.
If you own or know anyone who owns an iPhone 7, you may know that there is no headphone jack. Therefore, it can be inconvenient having to decide whether to charge the phone or listen to music with wired headphones. One way around this inconvenience is to get this set of Samsung Bluetooth earbuds for $199.99 from Macy's.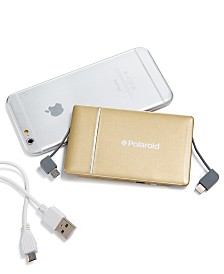 There are also times when someone needs to charge his or her phone or their wireless earbuds, but there is no wall outlet available. Macy's has this 3000 mAh portable charger from Polaroid for $36.00. For additional savings, Splender members get 4% cash back at Macy's and free shipping for orders over $50.
 These are just some of the many deals you can get from over 800 stores that are part of Splender.com. Ready to get some gifts? Sign up with Splender and get cash back today!