Beat the Winter Blues with these Frugal Tips
The winter blues got you down? We're almost halfway through winter and holiday bills are high, temperatures are low and the days are way too short. After all of the holiday joyfulness, the winter season can eventually take its toll on our moods. But don't let winter get you down. There are plenty of ways to improve your mood and distract yourself until spring.
Something else to cheer you up? When doing your online shopping through Splender.com, you can earn cash back and find awesome deals on every purchase.
So, if your mood is falling as fast as the thermometer, these ideas are sure to boost your spirits.
Have a spa day
Treat yourself to a visit to your local spa and take care of your body and skin when fighting the harsh winter weather. Spa & Wellness offers gift cards that can be used at more than 8,000 spas in North America for any treatment or product, and they never expire. Purchase a gift card through Splender to receive 8% cash back.
Snowed in? Consider making your own home spa day! Pamper yourself and give your hands and feet a much needed at-home manicure or pedicure; or light some candles and take a relaxing warm bath to soothe your stress. Kate from The Small Things blog says a good scrub and moisturizer for the face and body are two of the most important products to have in your do-it-yourself spa day ritual. "I highly recommend making this a monthly thing (or weekly for crying out loud!)."
Take a day trip
Embrace the cold weather with a family ski vacation if you live close to the mountains or take a staycation and stay at a hotel right in town. If you live in the suburbs, spend a night or two in the nearest city for some excitement and a quick getaway. Even taking a day trip to a town you've never been to or haven't visited in a while can be refreshing! It's always fun to see something new and explore the area you live in.
Retail therapy
If the weather is less than agreeable, stay safe and warm inside while shopping online! Pour yourself a cup of coffee and shop to your heart's content while in the comfort of your own home. Look for awesome deals on winter accessories or get your wardrobe ready for spring. Plus, when you shop via a cash back site like Splender you can reap the benefits of extra savings. Now, that's our kind of therapy!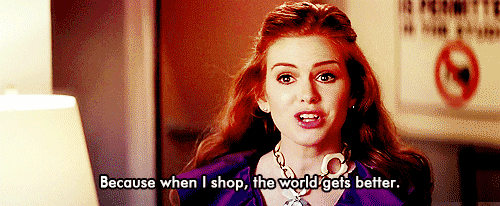 Watch movies                               
If you don't plan to leave your house (or simply can't) for anything other than work or groceries this winter, find some blankets and get your Netflix queue ready, you're going to need plenty of movies to watch. Escape from the winter wonderland you're currently residing in and put on a movie set in a tropical or desert location like Forgetting Sarah Marshal, Castaway, Pirates of the Caribbean and 50 First Dates, or escape into mystical worlds in films like Harry Potter or Star Wars.
If you can manage to venture outside, check out the latest films hitting the big screen and catch up on all the films in the running for this year's Oscar awards. Buy your tickets for a low price on Fandango where Splender is offering 2% cash back.
Learn a new hobby 
Luckily there are plenty of free or budget-friendly activities you can do while seeking sanctuary from the cold. Take up a new hobby or two to get you through the winter and take a stab at something you've been wanting to learn. Cook up those recipes you've been dying to try, take a painting class, learn to knit or learn a new language—all things you can do within the comfort of your own home! We love this fun recipe for chocolate snowcap mountain cookies from A Beautiful Mess. If you've got a cookie craving, you'll want to get your glass of milk, cozy socks and collection movies ready to go with a plate of these seriously big, gooey cookies.
Regular exercise will improve your mood not to mention your overall health, so why not find a new workout to try. Stay balanced with yoga classes or enroll in a kickboxing class for an incredible cardio session. And if you like to dance, how about learning to square dance, or how to do the tango?
Plan a trip
Just planning an upcoming getaway is proven to be a mood lifter. Even if your spring or summer cruise or beach vacation isn't for several weeks, knowing you have one coming up can make you happier. Creating your itinerary and day dreaming about yourself barefoot on the beach with a cocktail in hand is sure to help combat the winter blues.
Don't let yourself get completely lost in the winter blahs if you're starting to feel a little gloomy and you need an extra strong cup of coffee to get yourself out of bed in the morning. Use these frugal tips until spring banishes the winter blues for good.
And, be sure to shop through Splender to earn cash back every time you shop. Sign up today!